October 18, 2014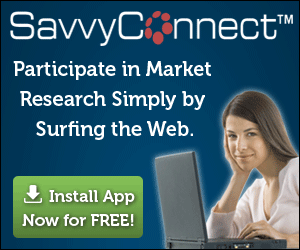 As you know if you have visited for awhile, most of the "Fun Money" that we focus on is earned by doing Money Making Surveys. Survey Savvy has been around for years, but they recently introduced a new program, Survey Savvy Connect, just for your mobile phone. Yet another great way to earn some Fun Money! If you are new to the world of taking surveys, please visit our complete list of companies, all of which I am a member of
HERE
. If you have any questions, email me
here
.
Here are what a few people have been saying about it.
"Hello my name is Kim and I am a Retired Registered Nurse. My sister-in-law recommended me to SavvyConnect when I came to her for help with my new Smartphone. She insisted that I try out SavvyConnect because not only will I be able to make extra cash, but I will also gain knowledge with modern day technology.I quickly became more familiar with how to use my device as time went on. I learned how download multiple applications including SavvyConnect, while making almost $200 in the past 4 months. I am now a veteran member of SavvyConnect with many more years to come."

Hello my name is Russell and I am fairly new to the SavvyConnect community. I heard from a few friends that by joining, I can receive many incentive rewards up to $100 just by simply installing and keeping the app active on my devices from home. The first projects I became a part of were Project Ballast an Project Alpine. At first, I was a little timid as to risking my devices, but I soon came to realize that SavvyConnect is the real deal. I was required to install the SavvyConnect app to my PC, Smartphone, and Tablet for a period of 90 days. Within a few weeks after the project, I received my $65 as promised. Ever since then, I have been active and proud member of SavvyConnect.
Posted by Moms Fun Money. Posted In : Surveys